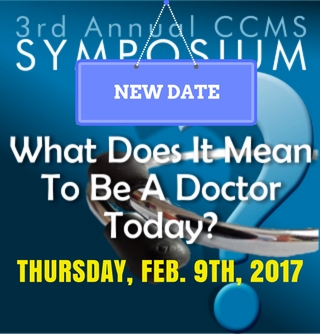 The new date for the 3rd annual symposium has been set to
Thursday, February 9th, 2017.

CCMS has proudly hosted two CME over events the last couple of years and we are gearing up for our 3rd Annual CCMS Symposium to be held on Thursday, October 6, 2016 February 9th, 2017. We listened to attendee feedback and have put together a program to address the burning question "What Does It Mean To Be A Doctor Today?".  We do not know if anyone can truly answer this question but our speakers will certainly try.  Registration is open and we hope you will plan to join us on the evening of October 6.
Space is limited
Doors open at 5pm, program begins at 6pm.
With gratitude for the support of the following organizations.