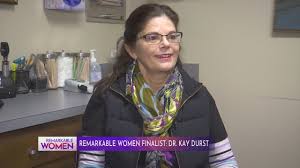 CHARLESTON, S.C. (WCBD) – For many, Dr. Kay Durst embodies the best in service, compassion, and achievement. She has her hands in many endeavors to help heal, uplift, and improve our communities all while continuing a family tradition of improving lives for generations of families throughout the Lowcountry.
Coming from a family of doctors, Dr. Durst is a third-generational family medicine physician who has worked in a doctor's office since her childhood — even now, she shares a practice with her father, Dr. George Durst, on Sullivan's Island.
"I just love helping people and healing, and I love the sciences. I am a third-generation family medicine physician, so I've been working in our office since I was a little kid," she said.
Dr. Durst started out handling the charts in her father and grandfather's Sullivan's Island practice.
"The practice here where I work has been around for over seventy-five years. It was started by my grandfather. He was one of the first physicians in the area," she explained.
She graduated from the Medical University of South Carolina, did her residency in Florida, and started a practice there. But Dr. Durst moved back home to make a difference in her hometown.