Dr. Thaddeus John Bell, College of Medicine, Class of 1976
We are extremely proud to be able to feature our own CCMS member and chair of the Health Disparities Committee ~ Dr. Thaddeus Bell!
We are also committed to be part of Closing The Gap In Healthcare's mission and vision.
Below are just a few of the latest awards and accolades.
Former MUSC diversity director honored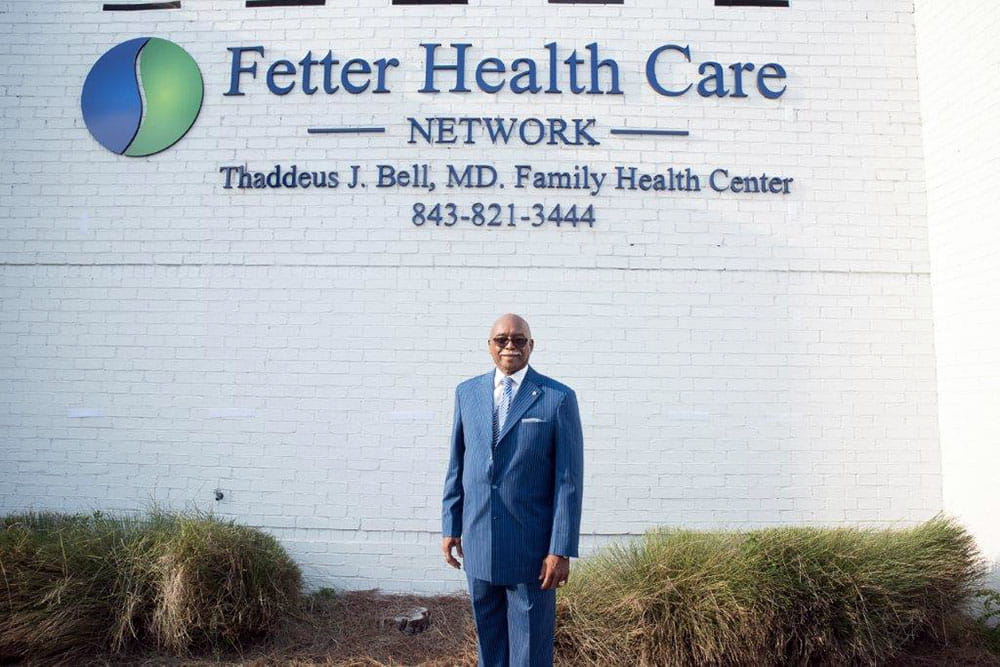 Health center in Summerville named for Dr. Thaddeus Bell. Photo provided
Thaddeus Bell was working at the VA hospital in 1980 when family grocery store owner Elijah Wright came to him and said he wanted Bell to help start a health clinic in Cross, a small community in rural Berkeley County in need of medical care.
"I said, 'Well, how much y'all going to pay me?' And he said, 'Nothing. We don't have any money to pay you.' So I said, 'OK, I'll do it,'" Bell recalled, chuckling. For 10 years he worked from 6 to 11 p.m. Tuesdays and Thursdays in the health center nearly 50 miles from downtown Charleston.
That health center was eventually named in honor of Wright and absorbed into the Franklin C. Fetter Health Care Network, a network of health centers in Charleston, Berkeley, Dorchester and Colleton counties.
Last month, the newest center in the network was named in Bell's honor.
Bell has served on the network's board for 20 years, and fellow board members managed to keep the honor a surprise almost up until the new Summerville center opened. They celebrated with a ribbon-cutting Aug. 15. Bell said he was elated, humbled and grateful.
"Most times, people don't get a building named after them until they're dead," he said.
In naming the building for Bell, the board honored more than his service to the Fetter network. Bell, an MUSC graduate, has spent his career fighting to improve the health and health care of African-Americans. He's done so by spreading health information to the black community Click here to read more
—
YWCA Greater Charleston to honor Dr. Thaddeus Bell and Trudy B. Lucas with MLK Celebration Awards
Joseph P. Riley, Jr. Vision Award
Thaddeus Bell, M.D., D.H.L., will receive the Joseph P. Riley, Jr. Vision Award at the Celebration's 22nd Annual MLK Summit on Thursday, January 13. A hybrid virtual and in-person event, it will be live-cast at 7:00 a.m. from the Camden Room of the Charleston Area Convention & Visitors Bureau.
Recognizing model corporate citizenship, the annual award is named for Mayor Joseph P. Riley, Jr., who served as mayor of the City of Charleston from 1975 to 2016. It recognizes an individual, corporation, or institution who achieves outstanding and favorable recognition in their field or industry; promotes diversity and equal opportunity through policy, business practice(s), and/or advocacy; contributes positively to the growth of the Charleston metropolitan business market; and advances the common well-being of society through community service and/or other acts of charitable goodwill.
Before going into medicine, Dr. Bell began his career as a schoolteacher in Gaffney, S.C., where he was the first African American to teach at an all-white high school in the state.
In 1980 he co-founded the Elijah Wright: Cross Family Health Center, a free clinic for the underserved in Cross, S.C., where he was the only physician for 10 years. He went on to serve as a physician at the Ralph Johnson Veteran Hospital in Charleston, Click here for more
—
Dr. Thaddeus J. Bell to Receive The Order of the Palmetto Award
The Lowcountry Jazz Festival and the Charleston Gaillard Center on Wednesday announced that festival founder Dr. Thaddeus J. Bell will receive The Order of the Palmetto, the highest civilian honor awarded by the Governor of South Carolina at the kick-off White Party event on Friday, September 2nd, 2022. The award will be presented by state representative Joe Jefferson in a short ceremony as part of the festive evening.
"Dr. Bell's lifetime of service to his neighbors and fellow South Carolinians is something we can all celebrate, and I'm proud to have had the opportunity to recognize him with the state's highest civilian honor," said Governor Henry McMaster.
The Order of the Palmetto recognizes lifetime achievement and service by South Carolina residents and those born in the state. A prominent physician in the state, Dr. Bell is also the founder of Closing the Gap in Health Care, Inc., a nonprofit organization created to decrease health disparities by providing health education for under-resourced communities in Charleston. Dr. Bell has founded numerous click here to read the entire article
—
MUSC College of Medicine
Distinguished Alumni Award
Dr. Thaddeus Bell '76